Service and maintenance
We think along with you
ITS Holland is the service and maintenance partner for exporters, importers, suppliers and manufacturing companies who do not have an own service or reparation department, or are looking to contract other companies. We offer you a complete service and maintenance scheme for your products or machinery from start to finish.
We strive for a high reliability in reparation, maintenance, fixing breakdowns and keeping all of your machinery and production lines up-to-date. ITS Holland thinks along with you and we decide together on the most suitable maintenance strategy.
During the course of time, ITS Holland has build a strong and reliable reputation around the world, with having contented customers as our highest standard.
This is what we are able to offer:
A global working range;
A precautionary maintenance plan for your product, machine or installations;
Spare parts management and telephone support for you and your customers;
Modifications to your product or machinery;
Moving machinery, products or installations;
Assembly and / or installation of your product, machine or installation on site;

You have a new product, or you don't have the investment directly available to you to set up your own service scheme, or you want to concentrate on anything but the after sales of your product? We offer you the possibility to set up a complete after sales scheme together with you. Ask for the possibilities.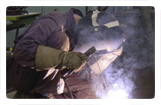 Why maintenance?
Experience shows that most complaints about equipment stem from little or no maintenance to the machinery, next to the nuisance created while the equipment is offline.
More often than not is corrosion spotted much too late, resulting in unnecessary high repair bills.
In short: precautionary maintenance is necessary!

Maintenance contracts
When you're thinking of precautionary maintenance to your product, machinery or installation, then make sure to contact us. We provide you with maintenance services suited for your needs.
The assembly and/or installation of your equipment is one of our services as well, another service we are able to offer is arranging product training courses for your customers.